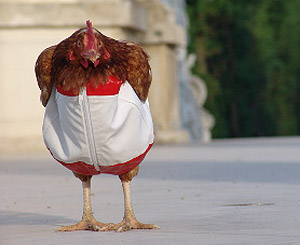 When you wake up in the morning, you just never know what the day will bring. Today brought me news of the Chicken Suit. You may know that some people put diapers on their chickens so that their little friends can roam around the house. But why stop there?
I simply can't improve upon what the inventors of the Chicken Suit have to say about it, so I will quote from them:
The inventors of the chickenssuit, this ingenious 'piece of freedom', truly believe that there is a real need for this world to suit its chickens. We talk from experience. Chickenssuit has made our lives richer.
Appeal to the desires of your chicken. What you like may not be what your precious likes! Only the perfectly styled chicken is a happy chicken. Let the individuality of your chicken run free!
How to put it on:
Watch out for the feathers when you close the zipper.
Variability in the crotch enables freedom for the legs.
Carefully rotate your chicken's wing and then simply pull it through the tailored wing opening.
Wash your suit at 30°C. No spin cycle or ironing necessary.
Let's change your life.