I'm about to leave on book tour (please come see me!). Every year I post a picture of my compact suitcase, and every year some of you ask me to explain what's in that suitcase–in other words, how I manage to live out of a tiny suitcase for three weeks, when I have to get up in front of an audience and look halfway presentable every night.
I never do answer those questions, because I feel weird talking about clothes. I deeply, seriously, do not care about clothes. Clothes shouldn't matter, right? It's what's inside that counts.
But…you know…we do all wear clothes. It's a practical matter we all deal with.
So. You asked. I'll tell you how I do it. Your mileage may vary.
No matter how long the trip, I only pack for three days.
That means I take a travel day outfit, one book tour outfit, and a second book tour outfit. This rule doesn't just apply to business trips–I do it on long vacations to Europe, too. Think of it this way: There's the outfit you're wearing, the one you're going to wear tomorrow (which is clean) and the one you wore yesterday, part of which might be hanging up to dry in the hotel bathroom after you washed it out in the sink. (That's what hotel shower gel is for.)
Plus a few extras. 
Any suitcase can hold more than two outfits, so you can throw in some extras depending on the season. The extras include: Pajamas (bonus points if those can double as workout/coffee shop attire, such as yoga pants and a t-shirt), an extra sweater or jacket if it's winter, and/or a couple of extremely lightweight, quick-dry tops if it's summer.
Everything goes together.
For me that means black, white, plus a color like navy or dark red. Examples:
Travel day: These Athleta pants (which are as comfortable as leggings or pajamas but with pockets and a bit more substanial–I'm not a fan of wearing workout clothes on the airplane). They would, in a pinch, look just fine onstage or at a reception. These ExOfficio tunics or a Uniqlo rayon blouse are dressier than a t-shirt but super comfortable and wash out quickly in the sink. This Athleta cardigan is warm enough to get me in & out of an airport on a winter day, and presentable enough to wear anywhere. If you're going to travel with a bulky sweater or jacket, that needs to be your travel day outfit because it might not fit in your suitcase and besides, airplanes are cold.
Book Tour #1:  I love this dress from Brassor this one, both of which look great over their ponte pants and can be layered up with a sweater, jacket, blouse underneath (or even just a thermal layer underneath, which I do if I'm going to be in a chilly convention center, for instance). Impervious to wrinkles, quick dry. Bonus: The ponte pants with any shirt can be an extra back-up outfit for days off.
Book Tour #2: I have these pants from Brass but really any somewhat dressy no-wrinkle black pants are good. I wear them with this blouse and maybe a sweater or jacket. I also love Uniqlo's rayon blouses in both short and long sleeves and pack a couple of these as "extras" because they weigh nothing and dry so quickly.
My style might not be your style, but take a look at Brass for dressy/business travel, Ex Officio or Eddie Bauer Travex or Athleta for vacationwear, and believe it or not, even shops like Chico's have a travel line. Not my style, but there are a couple basics there I would wear in a pinch.
Extras: Regardless of the weather, my extras almost always include one of Uniqlo's linen shirts because they're great when it's hot, fine when it's cold, dry quickly, and they're supposed to look wrinkled. I always take a couple of neutral t-shirts I could wear under a sweater or jacket and still look presentable. I also love Uniqlo's Airismand Heattechunderthings. In winter if I were to take an extra sweater, it would be a dressy V-neck like this that would look fine at any sort of function, in a color that works with whatever shirts I'm traveling with.
Maximum two pairs of shoes. 
Those are the shoes you wear on the plane and on your days off, and the shoes you wear the rest of the time. For years I never traveled with an extra pair of shoes–I wore the same leather Clarks every day. That's even better. Trust me, you are not going to lose your shoes! You don't need a back-up pair.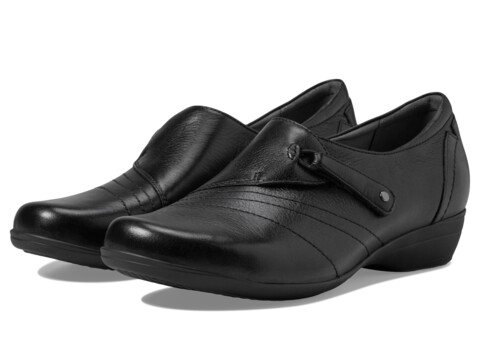 These Dansko Franny shoes go with everything in my suitcase, pants and dresses. I could get by with only these, but…
…these days I try to get some exercise every day while I'm on the road, so I wear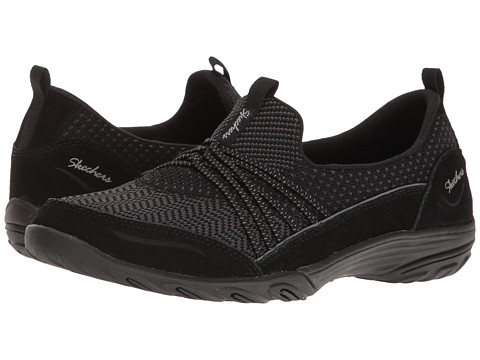 these ultra-lightweight slip-on, ridiculously comfortable Sketchers.  These are my airport/day off shoes, and I pack the Danskos.
I don't pack for extreme weather.
Book tours are not outdoorsy affairs. I'm mostly dashing from airport to hotel to bookstore and back. I don't pack a heavy coat or an umbrella. I do take a scarf (which goes with all the outfits) and a knit cap to protect my hair from weather. If I'm flying into truly terrible weather, I'll take a lightweight raincoat like this, but again, it's just to keep the rain/snow off while I'm dashing to the car. Mostly I try not to travel in bad weather!
I love travel cubes.
One for my two outfits and extras, and the other for pajamas and underclothes. Get the kind with a clean side and a dirty side so you can keep track of what you need to wash.